Rockville Sprinkler Repair

Comprehensive Sprinkler Repair & Installation Services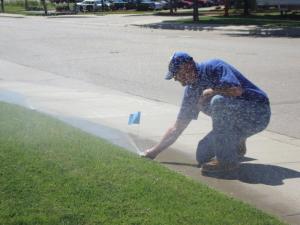 When you need an expert in sprinkler repair, you'd be hard-pressed to find a more experienced and well thought of company. Our team has been servicing commercial and residential sprinkler systems in Rockville and the surrounding areas for almost 15 years. During that time, we've seen tremendous growth in the industry as prices have come down to a level where middle class homeowners can afford them. This has kept our installation team booked up to three months ahead of time for the last five years. If you are looking to have a sprinkler system installed, call us now so we can get the design team working on it today.
Our Rockville sprinkler repair pros have been focused on helping home and business owners get the most out of their existing systems since we first opened over a decade ago. We do this through a comprehensive auditing and head adjustment service that redistributes water to the areas that need it most in your landscape.
If you haven't had your sprinkler system coverage evaluated in the past three years, it is likely that you aren't getting the correct coverage. As the landscape plantings mature, their need for water changes and as the turf around your building grows and is mowed down, the thatch level rises year after year. This rising thatch can cause sprinkler heads to fail to clear the grass level and result in water pooling near the sprinkler head and never getting to the outer reaches of the coverage area.
Our Rockville Irrigation Repair Team Does Custom Work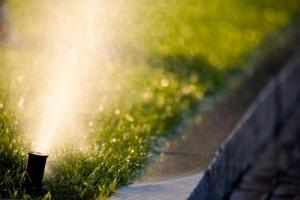 When you call our Rockville irrigation repair service, we'll make sure that you understand every portion of your system repair before we start it. You'll get a written estimate with a guarantee to keep within 10% of the total cost of labor and materials.
Our workers will do everything in their power to give you're the system that you want at a price you can afford. This might mean installing a system incrementally with the main system set up installed first and additional lines as in the future.
It is important to understand that our Rockville irrigation repair team designs every system from the ground up. Every landscape is different and has different irrigation needs. Even if the yard looks the same, the soil beneath it may not be. This is just one of the many aspects of each job that we consider. Call in our expert contractors and get a new system planned today!
A Great Contractor is Hard to Find
No matter if you're looking for a plumber, irrigation contractor, roofer, or electrician, a good contractor is hard to find. That's why we're always happy to recommend contractors who offer a truly superior experience, treat their customers better, and who we use for our own home construction & repair needs. Always do business with top-notch companies like Bethesda Plumbing and Burke Sprinkler Repair, and you'll never go wrong.

Our Customers Agree:

They are professionals as it's been almost 5 months since our sprinklers were repaired, and we are saving close to $60/month in water costs! Call them, and you wont be disappointed! Katty M.
We were having problems with our sprinkler system since it was very old, so we called them to do an evaluation. In less than two hours, the technician, found and fixed a valve leak, repaired and aligned the sprinkler heads. We now have a beautiful green lawn! Jayne L.
Because of a hammering noise that had been getting worse for the past year, we called them and they came the very next day. They were extremely professional and completed the work very quickly. I highly recommend them.Tom J.