Rockville Sprinkler Repair

Our Favorite Brands May Surprise You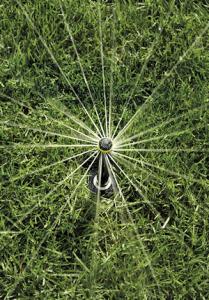 Our Rockville sprinkler repair team often gets asked what sprinkler system is our favorite. The truth of the matter is that there is no one system that is right for every problem or every situation. We could just as easily sing the praises of Rainbird or Hunter systems, or tell you about the great components offered by K-Rain and Irritrol. So, instead of telling you how one brand is superior to another brand, we'll just tell you how we've used them in the past.
Our commercial sprinkler team loves the coverage that Rain Bird rotary sprinkler heads provide. We tend to use these in large open areas like golf courses and corporate green spaces. They are the main reason that our commercial customers can continually sport lush Kentucky bluegrass turf year in and year out.
The contractors on our residential team are more apt to choose spray heads from Hunter to deliver precise irrigation to smaller lawns and planting beds. These spray heads allow a lower pressure watering system to attain the coverage necessary to support the heavy watering needs of non native pants like Kentucky bluegrass turf and tropical flowering annuals.
Our Rockville Sprinkler Repair Team Does Green Friendly Irrigation


When we are asked about green friendly irrigation, K-Rain comes to mind. They strive to be a zero waste company in everything they do. That means they deliver eco-friendly products without creating a lot of waste in their factories or in their corporate dealings.
Irritrol is the brand of choice for our tech forward customers. They have developed a controller system that can be run by your laptop or smart phone. You can set and adjust watering schedules even if you are thousands of miles away on a business trip or just across the way at a Broncos game.
So, really, the brand that our Rockville sprinkler repair team likes best for your lawn will depend on your specific needs. Give us a call and get a comprehensive sprinkler audit today.